Jim Epstein on Doctors Fighting Back Against Obamacare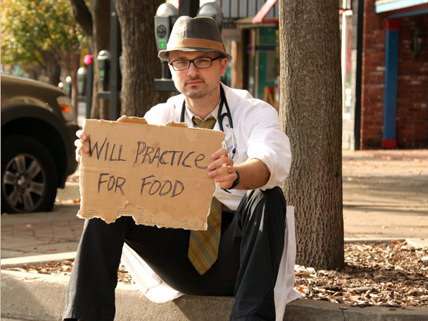 Dr. Ryan Neuhofel, 31, offers a rare glimpse at what it would be like to go to the doctor without massive government interference in health care. Dr. Neuhofel, based in the college town of Lawrence, Kansas, charges for his services according to an online price list that's as straightforward as a restaurant menu. A drained abscess runs $30, a pap smear, $40, a 30-minute house call, $100. Strep cultures, glucose tolerance tests, and pregnancy tests are on the house. Neuhofel doesn't accept insurance. He even barters on occasion with cash-strapped locals. One patient pays with fresh eggs and another with homemade cheese and goat's milk.
"Direct primary care," which is the industry term for Neuhofel's business model, does away with the bureaucratic hassle of insurance, which translates into much lower prices. And as Jim Epstein explains, direct primary care is also part of a larger trend of physician-entrepreneurs all across the country fighting to bring transparent prices and market forces back to health care. This is happening just as the federal government is poised to interfere with the health care market in many new and profoundly destructive ways.