Is Egypt on the Brink of Collapse?
So says its defense miniter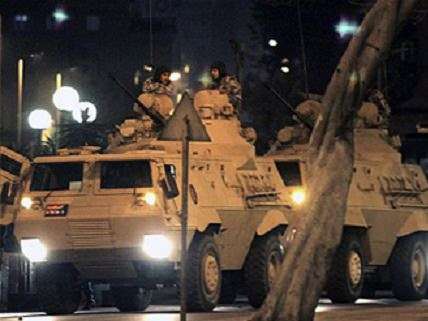 So warns its defense minister, who said that "[t]he ongoing conflict among the various political forces … may lead to the collapse of the state and threaten the future of our coming generations."
The admonition from General Abdul Fattah al-Sisi, defense minister since August and director of military intelligence under Hosni Mubarak, comes as the latest protests in Egypt continue, these spurred by death sentences handed down for soccer riots last year. At least 49 were killed in protests over the weekend, with Mohammed Morsi declaring a state of emergency in three cities near the Suez Canal. A few days before those protests there were demonstrations in Cairo for the two year anniversary of the 2011 Tahrir Square protests that led to Mubarak's overthrow. The newest cycle of unrest began late last year, in response to Morsi and his Muslim Brotherhood ramming through a heavily Islamist constitution. The campaign to get the constitution pass saw Morsi and the Islamist establishment attempt to demonize and delegitimize the opposition. In response, the opposition has repeatedly rejected offers to talk by Morsi, dismissing them as not substantive. The most recent rejection, earlier this week, came with one former presidential candidate, Hamdeen Sabahy, demanding that Morsi "announce his full responsibility for the spilled blood of Egyptians." Meanwhile, authorities in one of the three cities in which Morsi imposed a state of emergency have scaled back the curfew, and the opposition appears to be pressing advantage, extending an offer of "dialogue" themselves. Via USA Today:
After refusing Morsi's calls for talks between opposing political camps, Mohamed El Baradei, head of the National Salvation Front – the opposition coalition – called for a broad national dialogue with the president, the Muslim Brotherhood's party, various ministers and other political groups in hopes to resolve the crisis. The opposition wants Morsi to form a national unity government and create a commission to amend contentious articles of the Islamist-backed constitution.
The increasing turmoil in Egypt cut short Morsi's trip to Europe, which he ended in Germany by defending previous anti-Semitic statements he's made, even while a key aide called the Holocaust a hoax perpetrated by the United States. America's shipment of military wares to Morsi's Egypt, however, appear to continue unabated.
Get the latest on the situation in Egypt at Reason 24/7.