Attn, Hit & Run Readers: Those Bargain-Priced-To-Sell Monets May Be Stolen!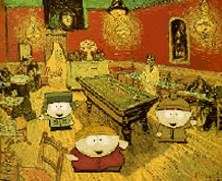 If anyone is suddenly pushing a cut-rate Monet or Van Gogh on you, be wary:
Armed robbers have stolen art worth $100 million, including works by Claude Monet and Vincent van Gogh, from a Zurich museum, police said Monday.

Zurich police said the robbery took place Sunday. Also among the works stolen were oil paintings by Paul Cezanne and Edgar Degas.

Police called the heist a "spectacular art robbery," but did not identify the museum, saying only that it is in the city's eighth district.

The prosperous and peaceful outer district on the eastern shore of Lake Zurich is home to several notable art collections.

The FBI estimates the market for stolen art at $6 billion annually, and Interpol has about 30,000 pieces of stolen art in its database. While only a fraction of pieces are ever found, the theft of iconic objects is rare because of the intense police work that follows and because the works are so difficult to sell.