The Coming War of Spock's Ear (Blame Canada* Edition)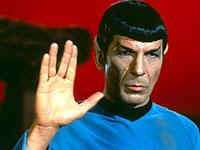 The boys at Sploid are not going gentle into that good night. As their possible demise approacheth, they continue to report on the most important and overlooked stories of the day. To wit:
The communists who run Canada held a bizarre secret "tribunal" that made ancient Egyptian religion the equal of Christianity and outlawed the marketing of Mr. Spock figurines as "toys."

Canada's International Trade Tribunal issued the sweeping rulings to stop the Franklin Mint, a U.S. trinket manufacturer, from claiming its collectibles of Star Trek characters, cartoon harlot Betty Boop and "Wizard of Oz" midgets "amuse and please" the Canadians who buy the things.

As a result, Franklin Mint can't get away with paying the lesser "toy tariff" on the exports, and instead must pay a higher duty to send the kitsch junk up north.
More here.
Who mourns for Adonais ridiculous tariff designations with a country in the same goddamned free trade zone?
Let's all sing along: I find that "Highly Illogical!" Not so long ago, Reason's Tim Cavanaugh argued cogently that the North American Free Trade Agreement means we should create a visaless border with Mexico and the Great White North.
At the very least, NAFTA should allow Canadians to buy Franklin Mint crap at as low a rate as is humanly possible.
Certainly the Americas have been embroiled in wars over less memorable ears, as colonial battle buffs could tell you.
If you subscribed to Reason, you'd already have the August-September issue (on newsstands now), which features Cavanaugh's essay on the deep meaning of Star Trek on the 40th anniversary of the original series' network debut.
[*] "Blame Canada" lyrics online here. And if you want to meet Trey Parker and Matt Stone of South Park, get thee to Amsterdam for Reason's great conference at the end of this month already.